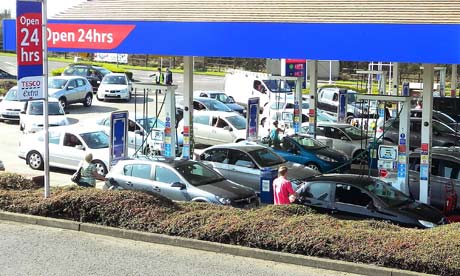 Drivers in Essex – Photo from the Guardian / Nick Ansell/PA
Britain, you truly do astonish me sometimes. The petrol pumps across the country are drying up, something terrible has happened? Oh.. No. It hasn't.
Ahh… maybe all the petrol making facilities have exploded? Ah. No..
What is causing this madness?
There is a threat of a strike by the tanker drivers – yes a threat – but no actual strike.
We've been told if there were to be one, we'd get seven days notice. Still the threat has been enough to send the UK into a petrol buying frenzy, around Chelmsford today I've seen queues everywhere, and ASDA sold out and Tesco nearly sold out too. Madness.
The thing is the petrol companies have been supplying us for years, they know how much we need and when we need it. All of you fucking idiots who have rushed out panic buying your petrol, have upset this balance, and the pumps are running dry! Those who aren't flapping like a bunch of deranged hens going to fill up because they actually need fuel will be fucked. There isn't any left. The selfish actions of a handful of twats could grind this country to a halt (and I'm not talking about the possibly striking tanker drivers!)
The daft thing is, even if there is a strike, you'll still more than likely get your petrol – there are plenty of agency workers who'll happily drive the tankers. Heck even the government have trained Army personnel to drive them! It's not like the blockades we had years ago, back then there was a physical block getting the petrol out. Now it's the drivers not driving that is the problem, they get different drivers in during the strike, it's all fine!
If you've been out to buy petrol today or yesterday and not actually needed it, you're a selfish cunt.
Get more stuff like this
Subscribe to our mailing list and get interesting stuff and updates to your email inbox.
Thank you for subscribing.
Something went wrong.